Overview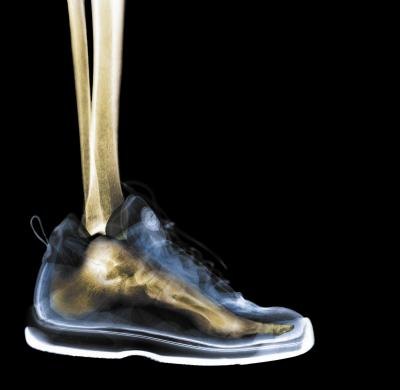 If you have flat feet, your arches are low or maybe even absent. The condition is also known by the medical terms "pes planus" or "pes valgus." Flat feet are often associated with excessive pronation, which is the action that causes the foot's arch to descend down and inward (flattening) as the foot strikes the ground. Pronation is a normal and necessary foot motion. Overpronation, however, means that feet pronate to an excessive degree while standing, walking or running. Because of their tendency to overpronate, flat feet are less able to absorb shock. And this impaired shock-absorption can mean increased stress on the feet, ankles and knees. You can sometimes identify overpronation in a person with flat feet by observing them from behind. You may see something called the "too-many-toes" sign, where the individual's toes and forefeet splay outward.
Causes
Fallen arches in adults are caused by several things. Below are some of the most common causes. Abnormalities present from birth. Torn or stretched tendons (resulting from foot injuries or foot strains). Inflammation or damage of the PTT (posterior tibial tendon). The PTT is responsible for connecting the middle of the arch to the ankle and lower leg. Dislocated or broken bones (also as a result of injury). Health problems like rheumatoid arthritis. Nerve problems. Other factors like diabetes, obesity, aging and pregnancy (these factors are known to increase the risk of fallen arches).
Symptoms
Depending on the cause of the flatfoot, a patient may experience one or more of the different symptoms below. Pain along the course of the posterior tibial tendon which lies on the inside of the foot and ankle. This can be associated with swelling on the inside of the ankle. Pain that is worse with activity. High intensity or impact activities, such as running, can be very difficult. Some patients can have difficulty walking or even standing for long periods of time. When the foot collapses, the heel bone may shift position and put pressure on the outside ankle bone (fibula). This can cause pain on the outside of the ankle. Arthritis in the heel also causes this same type of pain. Patients with an old injury or arthritis in the middle of the foot can have painful, bony bumps on the top and inside of the foot. These make shoewear very difficult. Occasionally, the bony spurs are so large that they pinch the nerves which can result in numbness and tingling on the top of the foot and into the toes. Diabetics may only notice swelling or a large bump on the bottom of the foot. Because their sensation is affected, people with diabetes may not have any pain. The large bump can cause skin problems and an ulcer (a sore that does not heal) may develop if proper diabetic shoewear is not used.
Diagnosis
Runners are often advised to get a gait analysis to determine what type of foot they have and so what kind of running shoe they require. This shouldn?t stop at runners. Anyone that plays sports could benefit from this assessment. Sports shoes such as football boots, astro trainers and squash trainers often have very poor arch support and so for the 60-80% of us who do overpronate or have flat feet they are left unsupported. A change of footwear or the insertion of arch support insoles or orthotics can make a massive difference to your risk of injury, to general aches and pains and even to your performance.
fallen arches support
Non Surgical Treatment
If the flat foot is rigid and causing problems, you will be referred to a foot specialist. Talk with your doctor about the best treatment plan for you. Options include the following. Physical Therapy and Exercises. Physical therapy may relieve discomfort. You may be given a specific stretching and strength program. You may also have treatment to help manage the discomfort. Exercises can help with the strength of the surrounding muscles. It may relieve some of the pressure in the foot. Orthotics are shoe inserts that support the foot. These inserts may help to reduce pain and disability in some people. In mild cases, a well-fitting pair of shoes with arch support may be all that is needed. Flat feet caused by nerve or muscle disease may need special braces. Fallen arches are usually treated using stretching exercises, physical therapy and medication (to reduce inflammation). In extreme cases however, surgery is recommended.
Surgical Treatment
In cases of flat feet that have progressed substantially or have failed to improve with non-surgical treatment, surgery may be required and in some advanced cases, surgery may be the only option. Your foot and ankle surgeon will determine the best approach for you.
Prevention
Wear Supportive Footwear. Spend the money it takes to get proper fitting and quality footwear with good arch supports. Most sufferers of fallen arches and plantar fasciitis are born with high arches that sag as they get older. Good footwear can prevent this from becoming a problem. Flat feet, however, can become just as problematic. So, really we should all be wearing good footwear to avoid this potentially painful condition. Take It Easy. If your heel starts to hurt, take a rest. If the pain doesn?t go away after several days of resting, it may be time to see a podiatrist. Orthotics. Special insoles to support the arch of the foot can provide some much needed help. You can buy these at your local drugstore (not recommended), or you can have them specially made and custom fit for your feet. It can take awhile to get just the right one for your foot, but sometimes it can be just what you needed. Weight Control. Yes, maintaining a sensible diet with your ideal weight can be beneficial in many ways. It makes sense to think that the more weight your arches are supporting, the more easily they will fall and become painful.